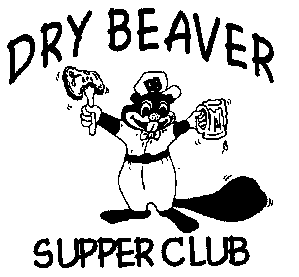 The Beaver Spot
THE FOLLOWING IS A SCHEDULE FOR LOCAL VOLUNTEER FIRE DEPARTMENTS FUND RAISERS WITH ITEMS DONATED BY THE DRY BEAVER SUPPER CLUB TO AID IN FUND RAISING. PLEASE TRY TO ATTEND AND BID/PUCHASE AS MUCH AS POSSIBLE. YOUR DONATIONS ARE TAX DEDUCTABLE THANKS! ROBERT
OCT 1 BETHEL ROAD VFD
DONATED FOR AUCTION: SMOKED BRISKET AND COCONUT CREAM PIE
OCT 8 HULEN VFD
DONATED FOR AUCTION: LARGE PAN BREAD PUDDING AND COCONUT CREAM PIE
OCT 15 COX'S STORE VFD
DONATED FOR DOOR PRIZE: DINNER FOR TWO (2)
FLOWER MOUND VFD: TO BE ANNOUNCED
THE DRY BEAVER LOOKING TO HIRE THE BELOW TO WORK 2 NIGHTS A WEEK FRIDAY AND SATURDAY FROM 5:00P - 10:00P:
WAIT STAFF
KITCHEN HELP
BARTENDERS MUST BE ABLE TO GET LIQUOR LICENSE
IF YOU ARE INTERESTED PLEASE CALL 580-250-1500 FOR MORE INFORMATION
THE DRY BEAVER SUPPER CLUB IS NOW OPEN FOR FRIDAY AND SATURDAY SERVICE. HOURS WILL BE 5:00-10:00PM. RESERVATIONS RECOMMENDED - WALKINS WELCOME. PLEASE GO TO THE CALENDAR OR MENU PAGE FOR THE NEW MENU
NO CAKES, FOOD OR DRINKS WILL BE ALLOWED TO BE BROUGHT IN - NO EXCEPTIONS!
CHILDREN ARE WELCOME ONLY IF THEY ARE DISCIPLINED AND REMAIN IN THEIR SEATS AND CAN BE QUIET. PLEASE BE RESPECTFUL OF OTHER DINERS FOR IT IS LIKELY THEY DO NOT WANT TO LISTEN TO CRYING AND SCREAMING KIDS.
WE WILL BE OPEN ONLY FOR PRIVATE PARTIES OF ALL KINDS. BOOK YOUR CHRISTMAS PARTIES NOW. WE WILL BOOK PARTIES MONDAY THROUGH THURSDAY ONLY.
The Beaver Supper Club first opened its door in December of 2000 with a seating capacity of only 50 guests however during the last 18 years we are now up to 95 guests. Our rustic astrosphere and our great staff attracts people of all ages. We have added a amazing deck which over looks a lighted pond as well as some of our local wildlife. Feeding the raccoons has been an favorite pass time while waiting on your table. We have also added a lounge which has a fireplace in the winter when you are unable to take in nature on the deck. Will book private parties. You can reach us at 580-250-1500 for parties and reservations.