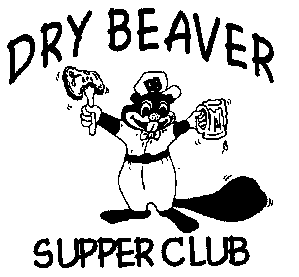 The Beaver Spot
THE DRY BEAVER NEXT OPEN DATE IS DECEMBER 12TH AND DECEMBER 31ST 5:00-8:00PM FOR THE FIRST 80 PEOPLE. LAST DATE FOR RESERVATIONS FOR THIS DATE IS WEDNESDAY DECEMBER 9TH AT 6:00P AND SUNDAY DECEMBER 27TH AT 6:00P . PLEASE GO TO THE CALENDAR OR MENU PAGE AND EMAIL tallkimbeaver@thedrybeaver.biz WITH YOUR PRE-ORDERS AND THE TIME YOU WILL BE ARRIVING. NO ORDERS WILL BE CONFIRMED UNLESS YOU PRE-ORDER AND YOUR INCLUDE YOUR ARRIVAL TIME.
WE WILL BE OPEN ONLY FOR PRIVATE PARTIES OF ALL KINDS. BOOK YOUR CHRISTMAS PARTIES NOW. WE WILL BOOK PARTIES MONDAY THROUGH SATURDAY.
The Beaver Supper Club first opened its door in December of 2000 with a seating capacity of only 50 guests however during the last 18 years we are now up to 95 guests. Our rustic astrosphere and our great staff attracts people of all ages. We have added a amazing deck which over looks a lighted pond as well as some of our local wildlife. Feeding the raccoons has been an favorite pass time while waiting on your table. We have also added a lounge which has a fireplace in the winter when you are unable to take in nature on the deck. Will book private parties. You can reach us at 580-250-1500 for parties and reservations.