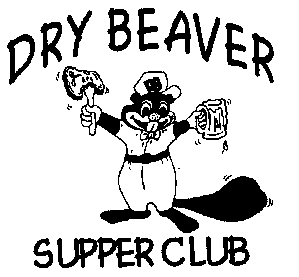 The Dry Beaver Supper Club
THE NEXT DATE THE DRY BEAVER SUPPER IS NOW FULL ON JUNE 20TH. PLEASE WATCH THIS WEBSITE FOR THE NEXT OPEN DATE PLEASE GO THE MENU PAGE OR THE CALENDAR PAGE FOR THE SPECIAL MENU. WILL NOT ACCEPT ANY ORDERS WEDNESDAY JUNE 17TH AFTER 6PM. EMAIL YOUR CHOICES TO:
TallKimBeaver@thedrybeaver.biz
THANKS FOR YOUR SUPPORT.
WE WILL BE OPEN ONLY FOR PRIVATE PARTIES OF ANY KIND. BOOK YOUR CHRISTMAS PARTIES NOW. WE WILL BOOK PARTIES MONDAY THROUGH SATURDAY ONLY.