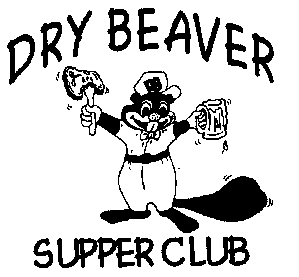 The Dry Beaver Supper Club
THE DRY BEAVER NEXT OPEN DATE IS APRIL 14TH FROM 6:00-7:30PM (CLOSE AT 9:00P ) LAST DATE FOR RESERVATIONS FOR THIS DATE IS WEDNESDAY APRIL 11TH AT 6:00PM) PLEASE GO TO THE CALENDAR OR MENU PAGE AND EMAIL tallkimbeaver@thedrybeaver.biz WITH YOU PRE-ORDER. NO ORDERS WILL BE CONFIRMED UNLESS YOU PRE-ORDER.
FUTURE OPEN DAYS:
May 12th 2018 MOTHERS DAY
June 16th 2018 FATHERS DAY
June 30th 2018
August 11th 2018 Lawton Rodeo
Garden Vegetables served as side orders and appetizers all summer and will change as available
DRY BEAVER WILL BE SELLING VEGGIES AT THE GARDEN EVERY SATURDAY MORNING FROM 800-1000AM AND WEDNESDAY FROM 400-600PM. THE DRY BEAVER WILL NOTIFY YOU WHEN WE BEGIN AND WHAT VEGGIES ARE AVAILABLE. PLEASE WATCH OUR WEBSITE FOR DETAILS.
THANKS FOR YOUR SUPPORT.
WE WILL BE OPEN ONLY FOR PRIVATE PARTIES OF ANY KIND. BOOK YOUR CHRISTMAS PARTIES NOW. WE WILL BOOK PARTIES MONDAY THROUGH SATURDAY ONLY.