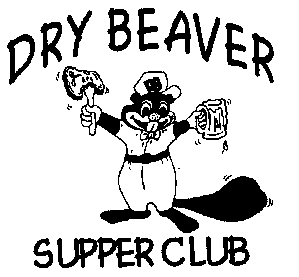 The Dry Beaver Supper Club
THE DRY BEAVER LOOKING TO HIRE THE BELOW TO WORK 2 NIGHTS A WEEK FRIDAY AND SATURDAY FROM 5:00P - 10:00P:
WAIT STAFF
KITCHEN HELP
BARTENDERS MUST BE ABLE TO GET LIQUOR LICENSE
IF YOU ARE INTERESTED PLEASE CALL 580-250-1500 FOR MORE INFORMATION
THE DRY BEAVER SUPPER CLUB IS NOW OPEN FOR FRIDAY AND SATURDAY SERVICE. HOURS WILL BE 5:00-10:00PM. RESERVATIONS RECOMMENDED - WALKINS WELCOME. PLEASE GO TO THE CALENDAR OR MENU PAGE FOR THE NEW MENU - MENU WILL BE POSTED SOON.
NO CAKES, FOOD OR DRINKS WILL BE ALLOWED TO BE BROUGHT IN - NO EXCEPTIONS!
CHILDREN ARE WELCOME ONLY IF THEY ARE DISCIPLINED AND REMAIN IN THEIR SEATS AND CAN BE QUIET. PLEASE BE RESPECTFUL OF OTHER DINERS FOR IT IS LIKELY THEY DO NOT WANT TO LISTEN TO CRYING AND SCREAMING KIDS.
THANKS FOR YOUR SUPPORT.
WE WILL BE OPEN ONLY FOR PRIVATE PARTIES OF ANY KIND. BOOK YOUR CHRISTMAS PARTIES NOW. WE WILL BOOK PARTIES MONDAY THROUGH THURSDAY ONLY.