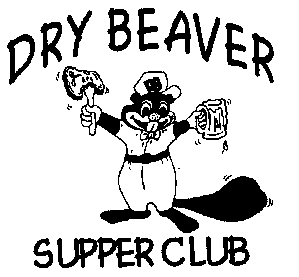 The Dry Beaver Supper Club
THE DRY BEAVER NEXT OPEN DATE IS OCTOBER 26TH FROM 5:30-7:30PM FOR THE FIRST 80 PEOPLE. ORDERS WILL BE ACCEPTED UNTIL WEDNESDAY OCTOBER 23RD AT 6PM. PLEASE EMAIL tallkimbeaver@thedrybeaver.biz WITH YOU PRE-ORDER. NO ORDERS WILL BE CONFIRMED UNLESS YOU PRE-ORDER. IF I DON'T CONFIRM YOUR ORDER I DIDN'T GET THE EMAIL SO PLEASE EMAIL AGAIN....
THANKS FOR YOUR SUPPORT.
WE WILL BE OPEN ONLY FOR PRIVATE PARTIES OF ANY KIND. BOOK YOUR CHRISTMAS PARTIES NOW. WE WILL BOOK PARTIES MONDAY THROUGH SATURDAY ONLY.